Monday night traveling league
This is a competitive open league that gives the curlers the privilege of curling in different curling clubs throughout the season.
​
Sponsors
The league is very grateful to have the two sponsors they have.
Southland Co-Operative Ltd.
A big THANK YOU goes out to these two sponsors who help make this league possible.
Defending Champs
Teams
Alan Batty - Assiniboia
Glenn Batty - Assiniboia
Ian Coghill - Assiniboia
Tom Mountain - Assiniboia
Larry Thorburn - Assiniboia
Travis Eldstrom - Assiniboia
Dale Berner - Assiniboia
Tyler Bamford - Assiniboia
Shaylor Layman - Lafleche
Lynn Sutherland - Lafleche
Terry Kirkpatrick - Lafleche
Jamie Jordison - Mossbank
PLAYOFF TREE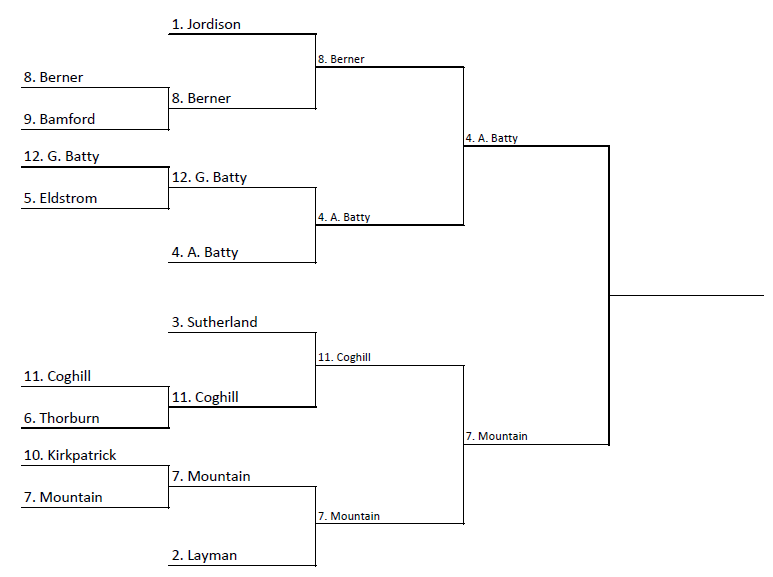 LEAGUE SCHEDULE
WINNING TEAMS ARE HILIGHTED
Standings
TIE BREAKING - the tie breaking procedure used to rank the teams was as follows. There were four teams with a 6-5 record and the "who beat who" method did not work so we looked at the records amongst these four teams. Sutherland and Batty had 2-1 records and Eldstrom and Thorburn had 1-2 records. Sutherland defeated Batty in round robin play so we was awarded 3rd place and Batty 4th. Eldstrom defeated Thorburn so Eldstrom was awarded 5th and Thorburn 6th. The same went for the five teams with a 4-7 record. Berner and Bamford were 3-1 amongst these 5 five teams and Berner won the round robin game so he ranked 8th and Bamford 9th. Mountain was the only team with a 2-2 record so he ranked 10th. Coghill and Batty had 1-3 records amongst these five team and Coghill defeated Batty in round robin play so they ranked ahead of Batty.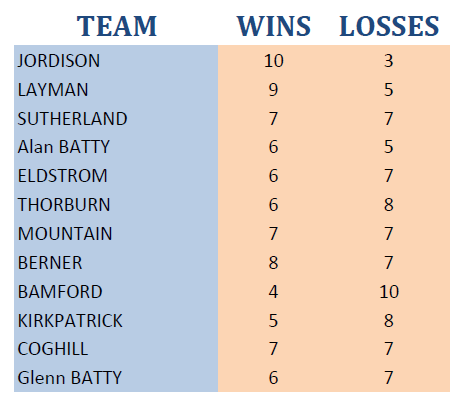 League Square
past winners
2017 Jim Howe, Ryan Howe, Bryan Howe, Cole Macknak, Joel Mowchenko
2016 Shaylor Layman, Brian Ross, Charla Achter, Tyler Sewell
2015 Glen Batty, Rob Schmidt, Lee Malinowski, Darrell Marcenko
2014 Alan Batty, Jay Weal, Brent Blackwell, Rob Greensides
2013 Glen Batty, Rob Schmidt, Darrell Marcenko, Len Engel
2012 Alan Batty, Jay Weal, Brent Blackwell, Kevin Gronsdahl
2011 Ron Lucas, Norm Kinchen, Ian Coghill, Rob Greensides
2009 Glen Batty, Rob Schmidt, Darrell Marcenko, Len Engel
2008 Alan Batty, Jay Weal, Brent Blackwell, Ian Coghill
2007 Alan Batty, Jay Weal, Brent Blackwell, Kevin Gronsdahl
2006 Bob Lindsay, Ron Lucas, Doug Hanstock, Lee Malinowski
2005 Devin Struble Team (Coronach)
2004 Lynn Sutherland, Bruce Anderson, Cal McIvor, Tim Peake
2003 Alan Batty Team (Assiniboia)
2002 Gary Stahn, Tim Dlouhy, Ron Lucas, Jim Batty
2001
2000 Alan Batty (Assiniboia)
1999
1998 Bob Ellert (Assiniboia)
1997 Bob Ellert (Assiniboia)
1996 Bob Ellert (Assiniboia)
1995 Bob Ellert (Assiniboia)